The 1st International Conference on Pharmacy Education and Research Network of ASEAN (ASEAN PharmNET I)
The 1st International Conference on Pharmacy Education and Research Network of ASEAN (ASEAN
PharmNET 

I) was organized from 2nd-4th December 2015 at The Landmark Bangkok Hotel, Thailand.
​
The ASEAN PharmNET I Conference, formerly the Indochina Conference on Pharmaceutical Sciences (Pharma Indochina), was held for first time in 1997 by 3 co-founders including the Faculty of Pharmacy, Mahidol University, Department of Pharmacy of University of Medicine and Pharmacy in Ho Chi Minh city and Hanoi University of Pharmacy.
Together with the development of ASEAN community and integrating into economic AEC, the ASEAN PharmNET I Conference highly appreciated by the appearance of 13 Deans/Rectors or Head of Pharmacy Department from 10 prestigious school of pharmacy in ASEAN and 300 oral presentation come from ASEAN and many countries such as Austria, Japan, France, America, Russia, Korea, China.
The theme of the conference was "Harmonizing the Diversity of Pharmacy Profession in the Era of AEC". The goal of this conference aimed to promote closer and broader cooperation of ASEAN countries integrating into regional and international economic community, to improve the exchange and collaboration toward the advancement of pharmacy education and research and pharmaceutical technology in ASEAN countries.
Ha Noi University of Pharmacy delegation headed by Assoc.Prof. Dr. Nguyen Dang Hoa, Rector and 23 members took part in this conference. Also in this conference, Assoc.Prof. Dr.Nguyen Dang Hoa, Rector joined "Dean Forum" of pharmacy schools in ASEAN. This forum is going to be held annually to discuss ways to develop programs and activities that could be share and combine to create a network of cooperation among the faculties of Pharmacy in ASEAN. Assoc.Prof. Dr. Nguyen Ngoc Chien was a speaker of one topic; 14 oral presentation and 8 posters presentation participated in 5 symposiums: Pharmaceutical Chemistry (PC) Pharmaceutics & Drug Delivery System (PD) Biopharmaceutical Sciences and Pharmaceutical Biotechnology (BB) Natural Products (NP) Clinical Pharmacy/Social and Administrative Pharmacy (CS) and Pharmacy Education (PE). This was a chance for the schools of pharmacy, pharmacists and pharmaceutical enterprises to introduce their products.
The oral presentation on "Quantitative research on the consumption of drugs imported diabetes in Vietnam in 2006-2011" by Mr. Nguyen Vinh Nam, won " The 1st Oral Presentation Awards". The honor prize of the organizers gave to PhD. Nguyen Thach Tung for oral presentation on " Research on self-emulsifying system and self-emulsifying pellet for improving the bioavailability of L-tetrahydropalmatin". PhD Nguyen Hoang Anh received the honor prize " Poster Presentation Awards" of the organizers on "Analyzing the anaphylaxis cases involving drug from pharmacovigilance database in Vietnam during period of 2010-2014."
The conference was fruitful ending with the commitment of the registered member schools to organize the ASEAN PharmNet conference biennial and the ASEAN Pharmnet II conference in 2017 will be formally hosted by Faculty of Pharmacy, Kebangsaan University, in  collaboration with Malay universities and Taylor universities, two co-hosted in Kuala Lumpur, Malaysia. 
Some images in the conference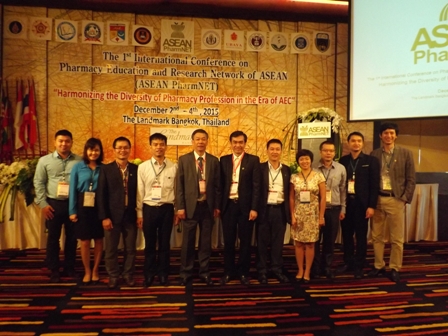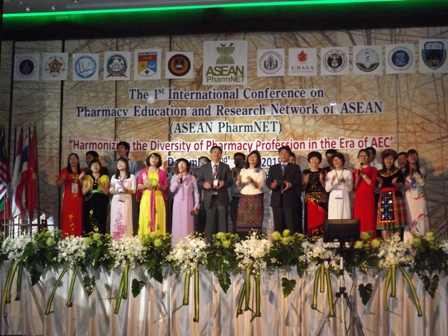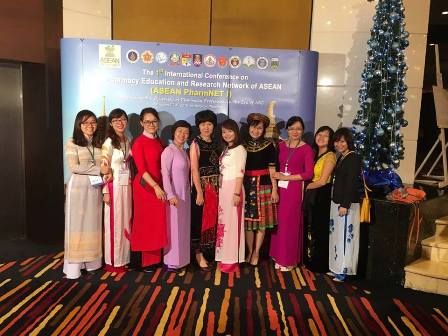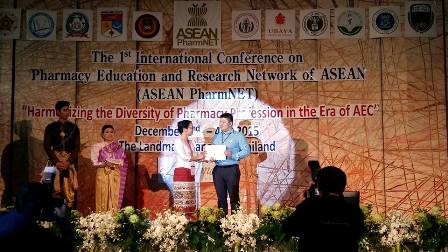 ---
05-03-2016